IELTS now offers a new format of the test: Computer-based IELTS Test (computer-delivered IELTS) in India for people who want to travel abroad for work or education purposes. Those who choose to take the test in this computer-based format will be completing the Listening, Reading and Writing sections on a computer, while the Speaking section remains the same (one-to-one face to face interview with a trained IELTS examiner). Computer-based IELTS is here to offer a fresh and more modern test experience with many more opportunities to take the test and receive results more quickly.
The computer-based IELTS test is expected to be very well received by many of the test takers used to working on technical fields or computers; the pen-paper test is still available for those who want a written-based test. So now one IELTS candidate has two options to choose from: paper-based IELTS test or Computer-based IELTS test. If you're worried about which one suits you the best, you need to answer a few questions first. Let's focus on the following questions: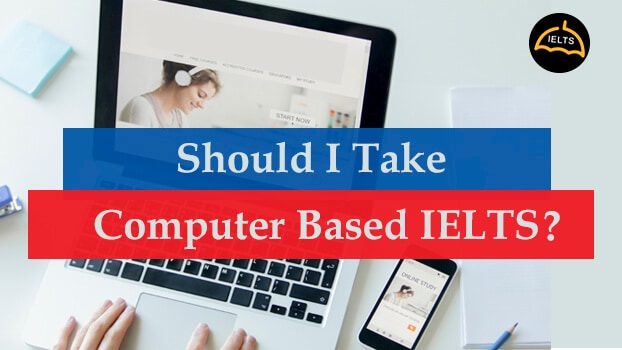 Do You Always Like To Try New Things?
Are You Very Sure To Use Computers For The Test?
Do You Prefer To Type On A Keyboard Instead Of Writing Using Pen-Paper?
Are You Fast At Typing?
Do You Feel Easy Reading On A Computer Screen?
Are You Comfortable To Read Online Articles?
If your answer is yes to these questions, it means that you can go for the computer-based IELTS test. You are very confident with your ability to use computers, and it makes you fit for the computer version of the test.
If your answer is yes to most of the questions, you can go for anyone from paper-based IELTS or computer-based IELTS. Still, if your answer is no to any of these questions above which may affect your performance if you go for computer-based IELTS. For example, if you answered no to question 4, could your typing speed affect your performance on the Writing test?
If your answer is no to most of the questions, it means that paper-based IELTS is best for you.
Remember to choose the mode of your IELTS test very carefully because the mode of test can have an impact on your test result.
How To Prepare For Computer-Based IELTS Test?
With the introduction of the new computer-based IELTS] test format, it is normal for candidates to wonder how to prepare for it. If you're one of those candidates, just remember that both types of the test are the same in terms of content, difficulty level, timing (except for the IELTS Listening section), and scoring. So the strategies you are using to prepare for paper-based IELTS will also work with computer-based IELTS. However, there are a few things that you need to be better at while preparing for computer-based IELTS.
In the IELTS test, there won't be any spell or grammar checker features available. So, we recommend you to practice the IELTS Writing section without the spell and grammar checker features on your computer. This type of practice will help you to reflect on your writing, and you can check your ability to write without flaws, keeping the scoring parameters in mind.
It is always good to practice typing before the test, even if you are very good with typing skills. The more you practice, the faster you'll become, and the more you will manage the time during the test.
Read a lot of articles and IELTS practice passages online. It will help you to get a better idea on how to complete the Reading test in a computer-based IELTS exam.
Finally, keep in mind that one of the main advantages of taking the computer-delivered IELTS test is that you have more opportunities to take the test. For instance, there will be more IELTS test centres available which will offer more test dates for you to take the test. With more computer-based IELTS exams, you'll have a flexible idea of when to take the test and how much time you have to prepare.
While the content remains the same for both the IELTS pen and paper based test and the computer-based IELTS test, in terms of differences in timing, there are two differences to be noted. Firstly, the results of a computer-based IELTS test are published within 5 working days, while the results of the pen and paper IELTS test take about 13-14 days. Secondly, the time distribution in the IELTS Listening test also stands out to be different. The 10 extra minutes given to a candidate appearing for the pen and paper based IELTS test is replaced by two extra minutes for revision of spellings and answers in the case of a computer-based IELTS test taker.
Please consider and analyze the above information while booking your IELTS test slot.
Looking for a score above 7 in your IELTS Test? Enrol for our IELTS video course that has helped people to score high in IELTS