Classes are all about one to one sessions where you get individual attention to learn better.
We focus on your uncertain areas and make sure we deliver the best score.
We provide online and offline classes at your own pace and comfort.
About PTE Online Coaching
1. About PTE Online Coaching
2. PTE Online Coaching Highlights
3. Format of Test:
4. PTE Online Preparation Features:
5. Countries that accept PTE
6. How we are different
7. FAQ's
8. Testimonials
PTE or Pearson's Test of English is a computer-based English test designed to test the proficiency of English among the non native speakers of the language. The knowledge skills which in PTE are tested are Listening, Reading, Writing and Speaking abilities of the English Language of non-native English speakers who plan to relocate to English speaking countries in order to pursue higher studies or job related migrations. The test is divided into four sections, each being further divided into sub parts with specific question types. The exam duration is for three hours. The results are declared by Pearson's in five working days and the test scores are valid for two years.
We house an adept bunch of certified trainers, under whom your best test scores are a sure shot. You can choose your convenient slot to be a part of our month long intensive training program. Classes are held on all weekdays, i.e.,Monday to Tuesday at the timing that you choose. Each module is dealt with separately one after the other. Regular assessment tests and study materials are a part of the training program.
We conduct tests after every module completion, which helps both the trainer and the candidate to know the level of proficiency, depending on which by this we make changes in the training method and technique if required to get the desired score. The best value for money PTE training program is what we excel in and our trainers have the required expertise on how to crack the PTE Test. They also provide personal attention to each candidate, since we take it on us to assemble only a few number of people at a time.
PTE Online Coaching Highlights
Skills tested in PTE: Listening, Speaking, Reading, Writing
The purpose of speaking test to check your communication skills, fluency, organize idea and your analysis, speculate about the ideas.
The test consists of six sections
Personal introduction: in this section, you have to introduce yourself which is not scored.
Read aloud: hear you have to read loud a passage.
Repeat sentence: you have to repeat an audio file.
Describe the image: this section shows an image or chart you have to explain that
Retell Lecture: you have to iterate a lecture usually 3 minutes and so in your own words
Answer short questions: hear answer basic and logical questions in one line or more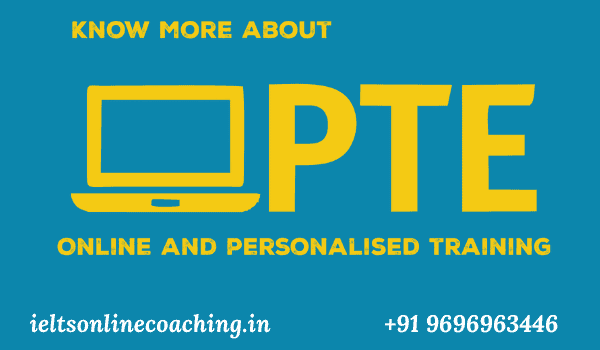 The purpose of the PTE Writing test is to check how accurately a candidate can express, emote, and put across his/her ideas through writing. Grammar, punctuation, vocabulary, spelling, answering coherently, i.e., according to the question and good organizational skills of ideas are the major scoring parameters.
The test consists of two tasks
Summarize text: A text of about 300 words is given on the screen, which the candidate has to read and summarize into one sentence, consisting not more than 75 words.
 Essay: An essay of about 200-300 words is to be written on a given topic in 20 minutes.
The purpose of the PTE Listening test to check how proficient is a test taker in the comprehension of English. The test and ability to recognise information and purpose of the speaker will be tested
Listening test consists of eight sections:
Summarize spoken text: In this section, an audio file will automatically be played to the candidate. He/She has to summarize the information that is heard in the audio in 50-70 words. The time allotted to write the summary is 20 minutes.
Multiple choice, Multiple answer: In this section, one has to listen to the audio file played and then choose more than one correct answer from the options given. 
Fill in the blanks: A transcript of the same text which is played in the audio is displayed, with multiple gaps in the written text. You are to fill the gaps depending on what is heard in the audio.
Highlight summary: A number of summaries are given to the candidate, whereby the candidate is to listen to the audio and choose the summary that best suits the audio.
Multiple choice, Single answer: In this section, the candidate requires to listen to the audio and choose one correct answer from the options given.
Select missing words: An audio file will be played to you. You are to choose the appropriate missing words in the text, depending on what you hear.
Highlight incorrect words: In this section, a written text is given on the screen and an audio file is automatically played to you. You will have to highlight the words in the text that are different from that of the audio file.
Write from dictation: You are required to write the sentence that you hear in the audio file that will be automatically played to you.
The purpose of the PTE Reading test is to assess the candidate on different aspects of reading and understanding of English. In other words, it is a test of the candidate's comprehension ability of English. 
Reading test consist of 5 sections
Reading and Writing Fills in the blanks:  In this section, the candidate is given a text of about 300 words, with missing spaces in between. As a test taker you are required to choose the suitable word from the options given in the drop down box beside each gap and choose an appropriate option to fill those missing spaces.
Multiple Choice, Multiple Answer: In this section, the candidate is required to read a passage and choose the correct options. Remember that there are more than one correct answer and you have to choose all the correct ones.
Reorder Paragraphs: A string of 5-6 paragraphs will be given on the screen. One has to understand their logical sequence and arrange them in order.
Fill in the blanks:  In this section, the candidate is given a text of about 300 words, with missing spaces in between. As a test taker you are required to choose the suitable word from the options given in the box and fill those missing spaces.
Multiple Choice, Single Answer: In this section, the text given is followed by an array of options, from which the candidate will have to choose the right answer.
Get Trained By Our Experts And Score 80+ Scores In The First Attempt. Our PTE Online Coaching Offers You Both Online And Offline Coaching.
PTE Online Preparation Features:
We will provide listening test material, Reading test material, writing practice and speaking tests for PTE test.
We provide you PTE real exam type questions. This will develop your confidence to crack PTE
We offer PTE Academic online as well as classroom training.
We provide practice of questions related to the PTE exam pattern in every aspect reading, writing and speaking.
A minimum of 20 exercises on each question type to give you sufficient practice on solving every question.
It is important to understand the PTE exam pattern.
Proper techniques are essential to score 70 plus in PTE language test.
Our well structured online training programme makes easy to crack PTE
Our trainer has prepared a powerful training module.
We maintain a training record sheet to monitor students progress and evaluate the scoring ability
Countries That Accept PTE
Australia and New Zealand offers PTE for immigration purpose
It is also accepted in some colleges of USA, Canada and UK
No Time To Study PTE Sessions? Then This Is The Right Place For You To Join, Crack Your PTE Exam With Our Online Training And You Can Access From Anywhere.
Awesome! great mentors, it is the right place to join here if you are looking for the PTE Online Coaching, friendly staff and they provide study material.
I want to go to Australia, but was very much worried about it, but one day while I searched in Google- PTE Online Coaching, then I enquired and joined, I completed the exam in my first attempt
Due to my busy schedule with work, I was unable to practice properly. But the tips and coaching methods provided by the PTE Online COaching faculty helped me a lot to achieve a good score in the PTE exam
After I completed my graduation, I used to work in an office and i did not have time to study for PTE coaching, then my friend suggested to go for PTE Online Coaching, he suggested this PTE Online Coaching and I called them and asked for details and i liked the way they answered my questions. I started my coaching, sometimes I used to miss my classes, then they would explain to me the classes again. It was one of the best PTE Online Coaching institutes. I would thank them for fulfilling my dream.
I joined here for my IELTS coaching, and I'm fully satisfied with the trainer's teaching skills. In addition to this, the material provided by this institute was very helpful to prepare well for my exam. I suggest you that please don't waste your time and go for IELTS Online Coaching directly. I recommend that it's the best institute in Hyderabad.
I have had a good experience with IELTS Online Coaching. The provided material by them is really helpful. It is consolidated and makes the preparation easier. Thanks to my faculty who have supported me through the whole learning process. I would recommend this coaching for best IELTS preparation training.