25 Apr

IELTS Writing tips for General and Academic test

One of the mistakes most people make after taking the IELTS written exam for the very first time would be to immediately read the question and then write their answers using the whole time of exam time. In some other cases, test-takers read the questions, then sit there wasting valuable time trying to work out what to write, then hurry to rapidly put down anything they could in the remaining test time. Here are some IELTS writing tips for general and academic test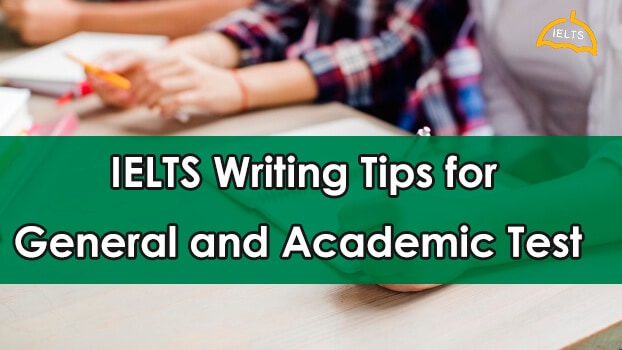 Both approaches often result in lower scores because test takers are spending their time writing a reply to the issue or spending some time thinking about exactly what to write. Because of this, they're not using powerful writing tools and methods which may make answering both of the tasks questions simpler.
Step 1: Practice, practice, & some more practice
You will find practice paper for written exams supplied through many IELTS site. We highly advocated using those to help prepare for your real exam.
Step 2: Read the question more than once
Read the exam questions for both the tasks and choose which one you need to write about. Before you begin writing, read the questions another time to make sure you understand what it is asking and the topic/subject.
Step 3: Create an outline plan
As you may want to jump into your writing immediately, wait for a couple more minutes. Instead, use this opportunity to come up with an outline of your thoughts to help keep you focused. Not having a strategy can lead you to go off-topic.
You might even use your outline to refer back to the questions and confirm you've included all essential components in your response.
Step 4: Write your answer
Now you have the outline, and you have to proceed for your writing. You have to include an introduction and a concluding paragraph. Do not forget you should also compose your body paragraphs and all these are an essential part of the written test since they contain the information that you want to answer the question.
Step 5: Do not write to the last minute
You would like to get about five to ten minutes in the close of the exam left for revising and editing. It is almost always a fantastic idea to recheck your written work and search for mistakes in spelling, punctuation, and grammar use. Checking for errors is very important since they will lower your score.
As you are re-reading your response, consult with your outline to ensure you included each point you had as a part of your answers. Make any alterations, and when time allows, re-read it again later adding fresh content to your answer.

Looking for a score above 7 in your IELTS Test? Enrol for our IELTS video course that has helped people to score high in IELTS
Visit our YouTube Channel for more IELTS Preparation Tips & Tricks